Jennings Construction is your outdoor deck contractor. We are licensed and fully insured. We are happy to help you build a deck for your family's outdoor living needs. If you just need your deck painted, or a complete new outdoor deck construction, please give Brock a call at Jennings Construction.
Benefits of Hiring an Outdoor Deck Contractor
Increased living space and improved property value are a couple of the benefits your family can look forward to with the addition of an outdoor deck. Other benefits are…
Increased living space: A deck provides additional living space for homeowners to entertain guests, relax, or simply enjoy the outdoors.
Improved property value: A well-built deck can enhance the appearance of a home and increase its resale value.
Increased enjoyment of the outdoors: A deck allows people to spend more time outside, enjoy their backyard, and take advantage of scenic views.
Versatility: A deck can be used for a variety of activities, such as dining, grilling, lounging, or gardening.
Low maintenance: Decks made of composite materials require little maintenance compared to traditional wood decks and can last for several decades.
Environmentally friendly: Decks made from sustainable materials, such as recycled plastic, are a more environmentally friendly option.
Easy installation: Decks can be installed relatively quickly and easily compared to other outdoor home improvements, such as a patio or screened porch.
Jennings Construction will be happy to help if you need to hire a professional deck contractor to ensure the outdoor deck is constructed safely and properly. We have all necessary license, permits, and we are fully insured.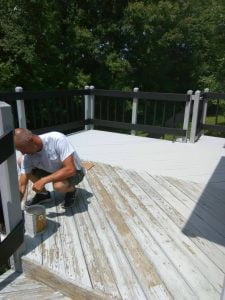 Do You Have A Deck Construction Project We Can Help With?